Croídh and Dan tied the knot with a rustic reception in The Barn at Hotel Doolin, Co. Clare.
The couple's autumnal colour palette shone through on the day, with shades of burgundy, burnt orange and sage green popping up in the floral arrangements, bridesmaids dresses and decor.
Croídh and Dan, who both originally hail from Clare, chose crashing Atlantic waves and a historical ruin as the backdrop to their stunning wedding photoshoot.
Check out the this fun-filled wedding day captured by me 🙂
Marriage is not a piece of paper,
Neatly folded in a file,
It's two people on a journey,
They hope will make them smile,
Two people courageously placing,
Their hearts out on the line,
Two people bravely facing,
Their fears gained over time,
Two whole and happy people,
Who want to share their lives,
To hold hands through life's lessons,
And celebrate good times,
To have someone who knows us,
But loves us all the same,
Someone who makes us light up,
By whispering our name,
If marriage was a piece of paper,
It would be a piece of art,
Hanging in a gallery,
Stirring people's hearts,
And as they gazed into it,
That marriage in a frame,
Their thoughts on what made marriage,
Would never be the same,
It takes a little kindness,
A whole heartful of love,
Loyalty and understanding,
Some prayers to up above,
It takes strength and true compassion,
And words that do not hurt,
Two people on a journey,
Who want to make it work,
To be there for each other,
Even more when things get tough,
First you choose each other,
And then you keep choosing love.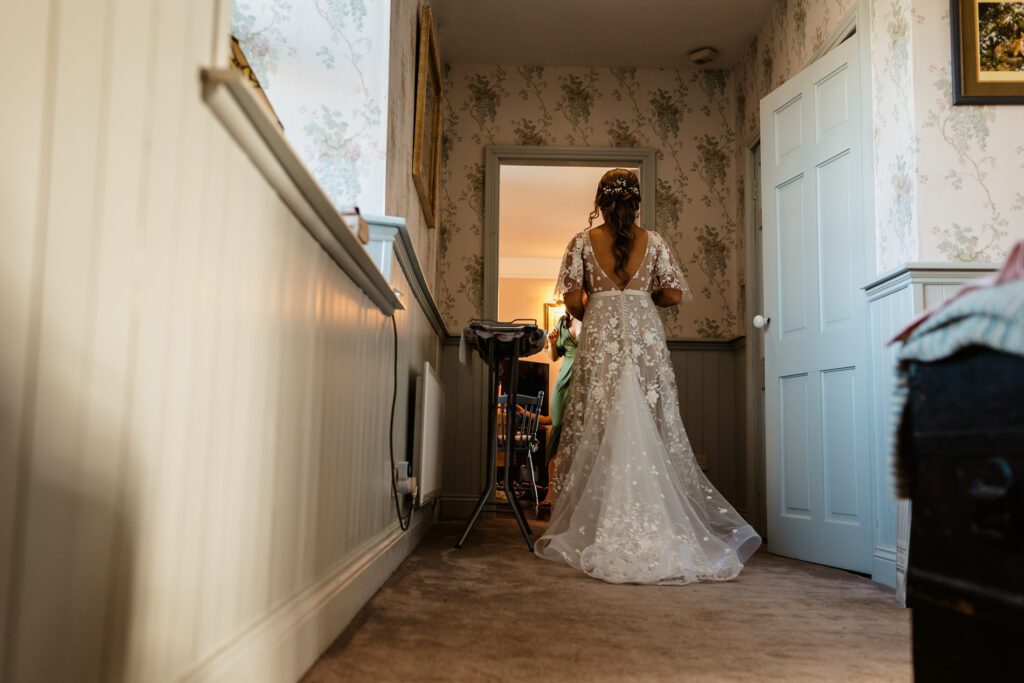 Starting off as friends, Croíadh and Dan met while working in college at Shannon Airport but soon realised there was a spark.
When it came time to propose, Dan had originally planned a surprise romantic trip to Waterford but due to restrictions the couple stayed in Clare. "He proposed on Doolin Pier in October 2020 and we stayed in Hotel Doolin which was the first step in a long relationship with the hotel!"
The vibe of Hotel Doolin has to be experienced to be
believed.
It has the most relaxed and fun atmosphere and nothing is too much. They provide
all the nicest little extra touches such as tayto sandwiches in the residents bar at 3a.m. that we
didn't expect! We also had a second day buffet style meal and party in the hotel which was
amazing and for the two nights you are the only guests in the hotel as it's a boutique hotel! It
almost feels like a mini holiday in west Clare with all your nearest and dearest.
For the bride's entrance the band played a live instrumental version of Rainy Night in Soho by The Pogues. During the ceremony, Croíadh's uncle sang a rendition of The Voyage by Christy Moore and the couple left the venue with a bang in a fun hurley guard of honour. As a lovely touch, the pair also hired a coffee van to supply their guests with tea and pastries before their one-hour trip back to Doolin for the reception.
"Enjoy it as much as you possibly can! It's a cliché but the day and weekend really does go so quickly and it is your day, so do what you want and make the most of it. Don't worry about the small details – food, entertainment and good company is all people will remember – we didn't even realise the décor in the church ourselves, we were too occupied with looking at everyone's smiling faces! People won't know if something is out of place or not how you imagined it to be – so don't let it consume you. Be present and enjoy, it really is the most exciting day!"
The couple and their guests stayed in Hotel Doolin for their day two celebrations which included a meal and a party. "For the two nights you are the only guests in the hotel as it's a boutique hotel. It almost feels like a mini holiday in west Clare with all your nearest and dearest." Following their wedding, the couple took a well deserved trip to Killarney for a relaxing retreat after the busy weekend!
Wedding dress //Anna Campbell|
Earrings //Blackbird Jewellery
Bracelet & Ring //Seoidín|
Groom & Groomsmen Suit //Esquire|
Bridesmaid Dresses //Renata dresses from Folkster|
Flower Girl outfits //JJ's House|C
eremony //Our Lady of the Wells|
Mother of the Bride //Don't Call Me Dear|
Mother of the Groom //Sinéad's Boutique|
Flowers //Flower Mill Florist|Coffee Van //Morsel|
Transport //Pat Keogh Chauffeur Services|
Stationery //Lisa Heffernan Design|
Makeup //Lauren Sexton Makeup|
Hair //Curl Up & Dye|
Engagement ring //Lunn's Jewellers|
Wedding ring //Fields|
Ceremony music //The Honeyvoom Duo|
Band //One September|DJ //Eoghan Fitz|
Entertainment //Love Shack Singing Waiters|
Rentals/Décor //Rí Weddings & Events|
Ireland Stormy Skies & Rustic Decor: Croíadh & Dan's Coastal Wedding by MrsRedhead
Doolin Barn Fun-filled wedding day captured by Mrsredhead Photography Ireland, Cliffs Of Moher, Doolin Pier, Wild Atlantic Way wedding