We really wanted just a very laid back, fun, good time feel for the whole day where everyone enjoyed themselves as much as we did
Sometimes when you're wedding planning you have no idea how important someone will become to your day, obviously your photographer is really important because who wants bad photos?!!
 But along the way we learnt that aside from the photos, the reassuring smiles, the quiet advice, the great ideas, the secret plate of food for after the ceremony and actually feeling like you are spending time with a dear friend is far more important – We love our photos with all our hearts, we're so proud to share them with anyone who will look, but more so we genuinely feel we have gained a friend and our time with Olga at the cliffs is one of the highlights of our day. It's super cheesy and cliche but good luck finding someone with a brighter smile and can produce more stunning, romantic and genuine photos than Olga – MrsRedhead , we'll wait. 
Patrick & Catherine 
Having everyone together, our family and friends are spread around the world, we wanted to honor those who are no longer with us and set the foundations for the rest of our lives together, have a big party and see friends and family that we haven't seen for years.
Patrick proposed on my birthday in October of 2020, He insisted i get out of bed for my present that was downstairs (I was super excited i thought it was outdoor furniture (lol not lol) so up i get and trundle downstairs, he said the dogs got me a present and it was under their food bowl, after reading the note which asked would i married him i turned around and Patrick was down on one knee with the dogs next to him wondering what i was doing with their biscuits, a few swear words later I obviously said yes!
Ironically, Catherine was on a working in Ireland and Patrick was working as a silage contractor in Methven, I came home to New Zealand in 2015 after a few years for a holiday and was introduced to Patrick in the local Irish Pub, we became friends and Catherine returned to Ireland, in 2017 patrick saw a snapchat story I put up on my way back to New Zealand this time from Austria for another holiday and we ended up going on a much discussed date, back to the same irish pub, needless to say I missed my flight back to Austria and the rest is history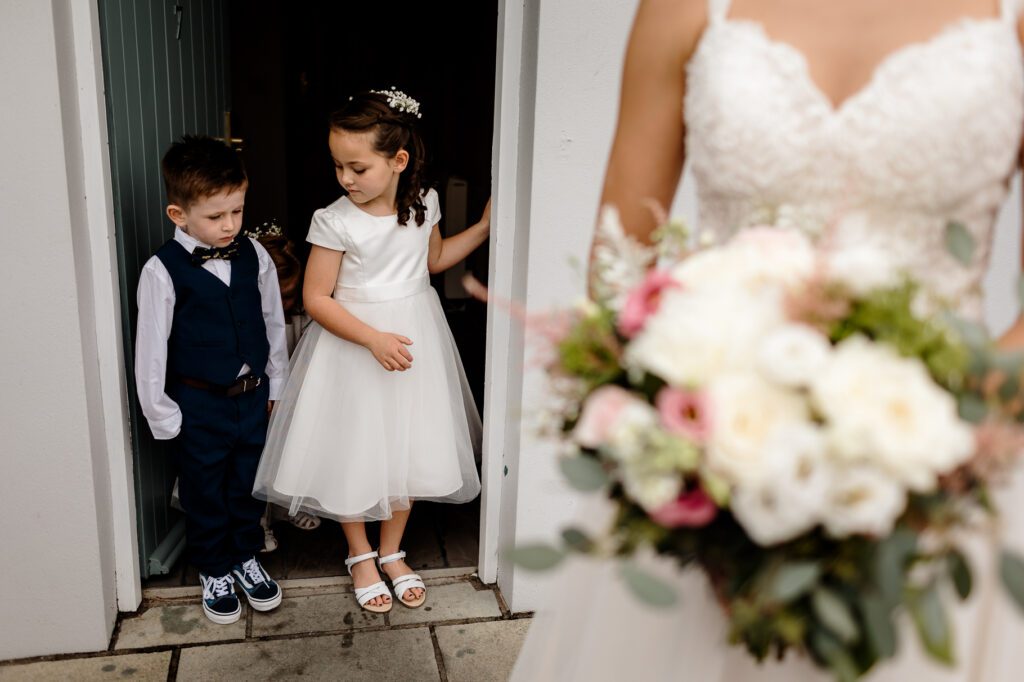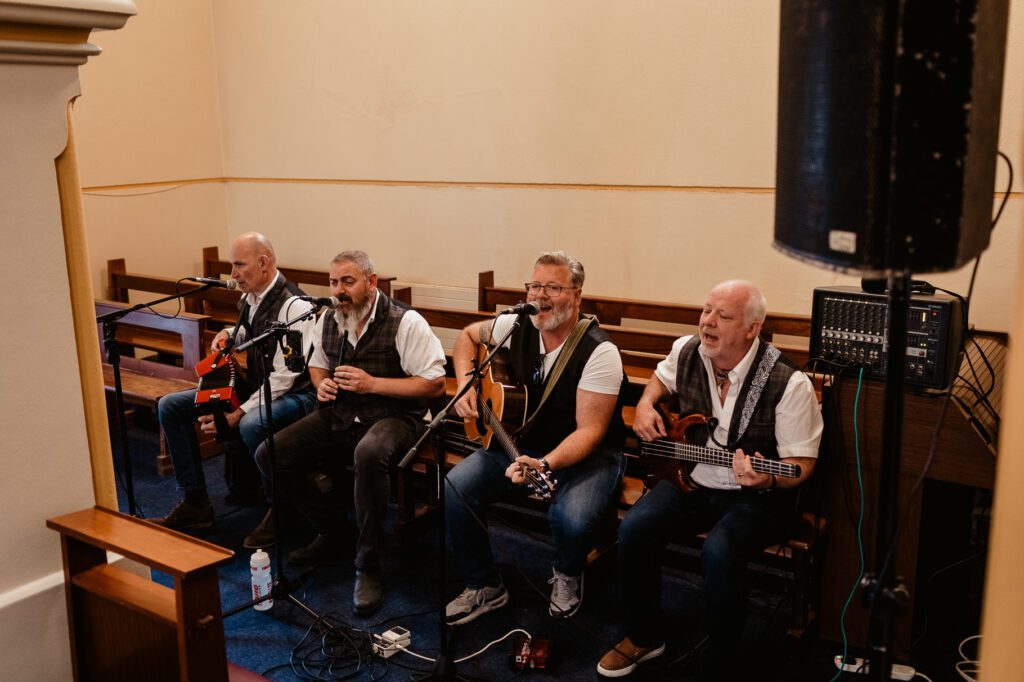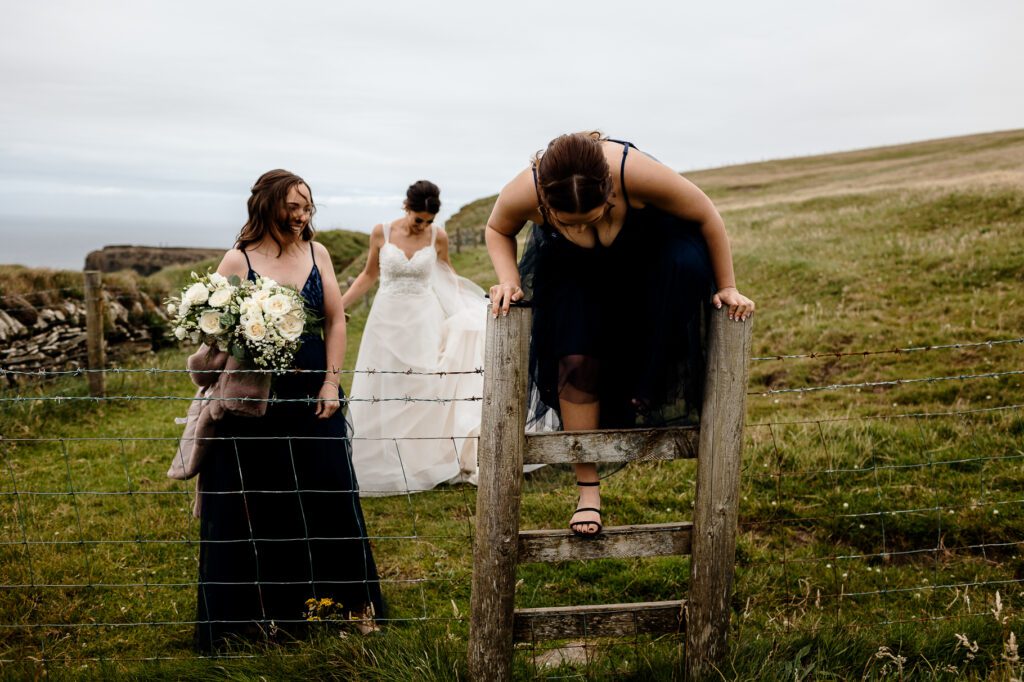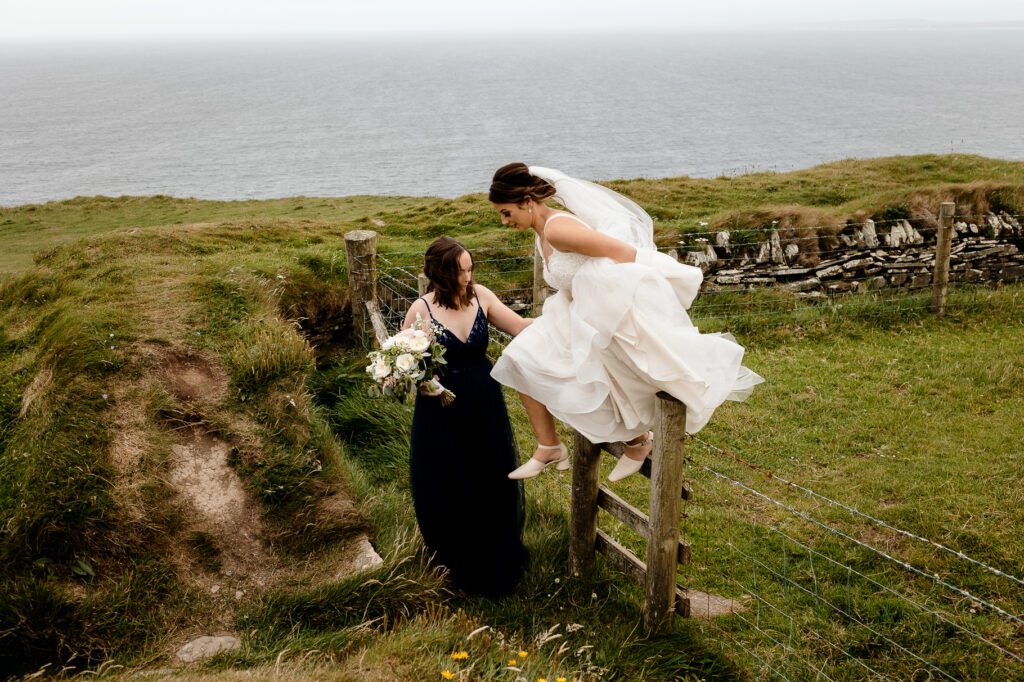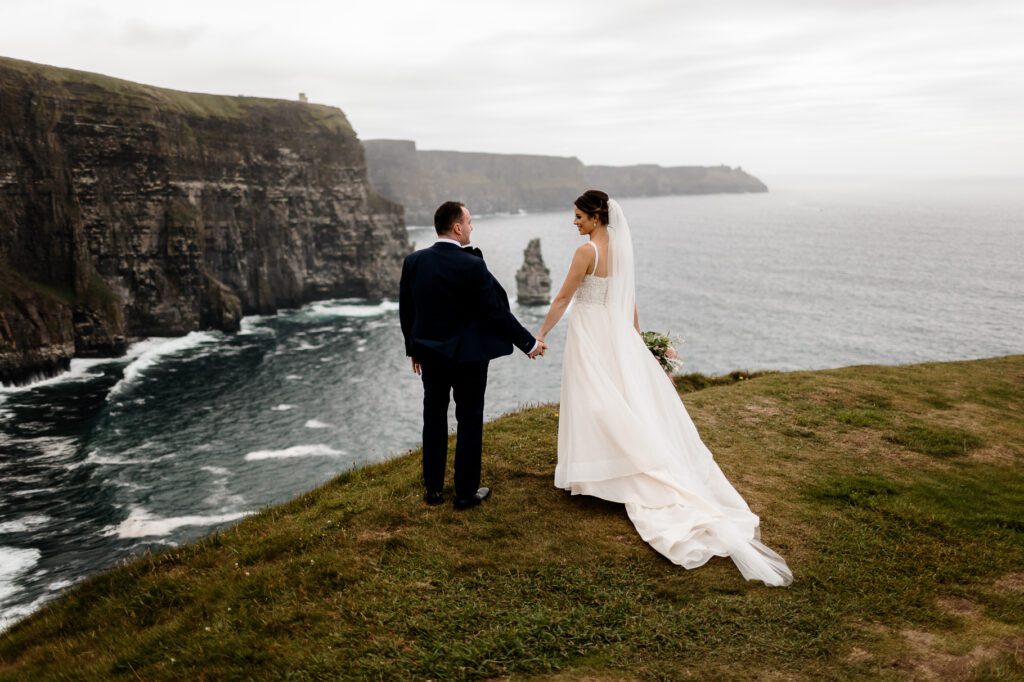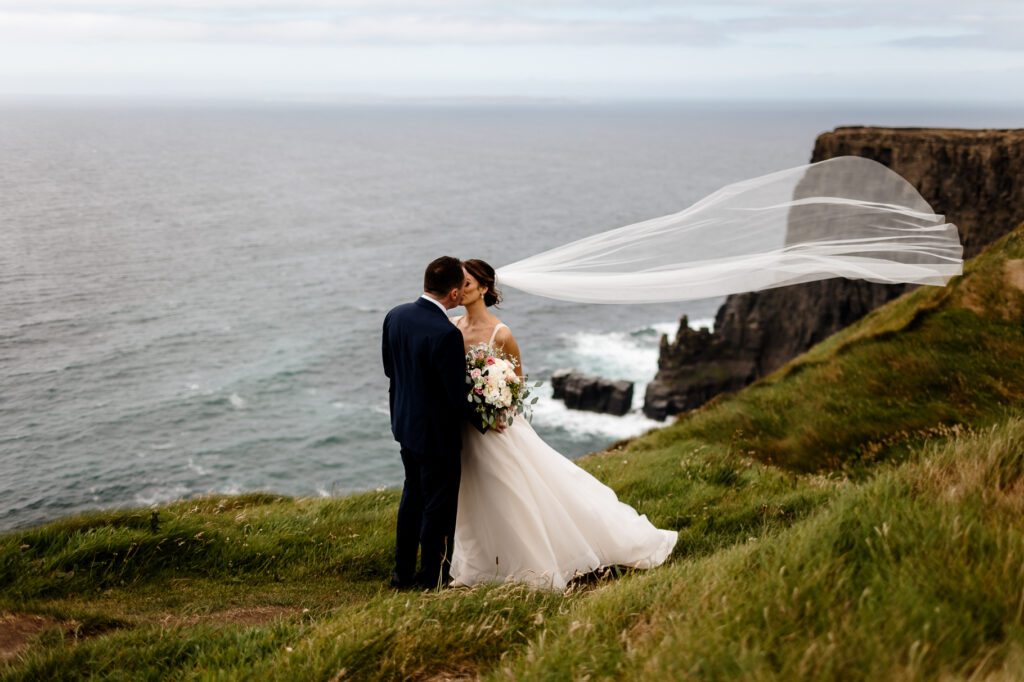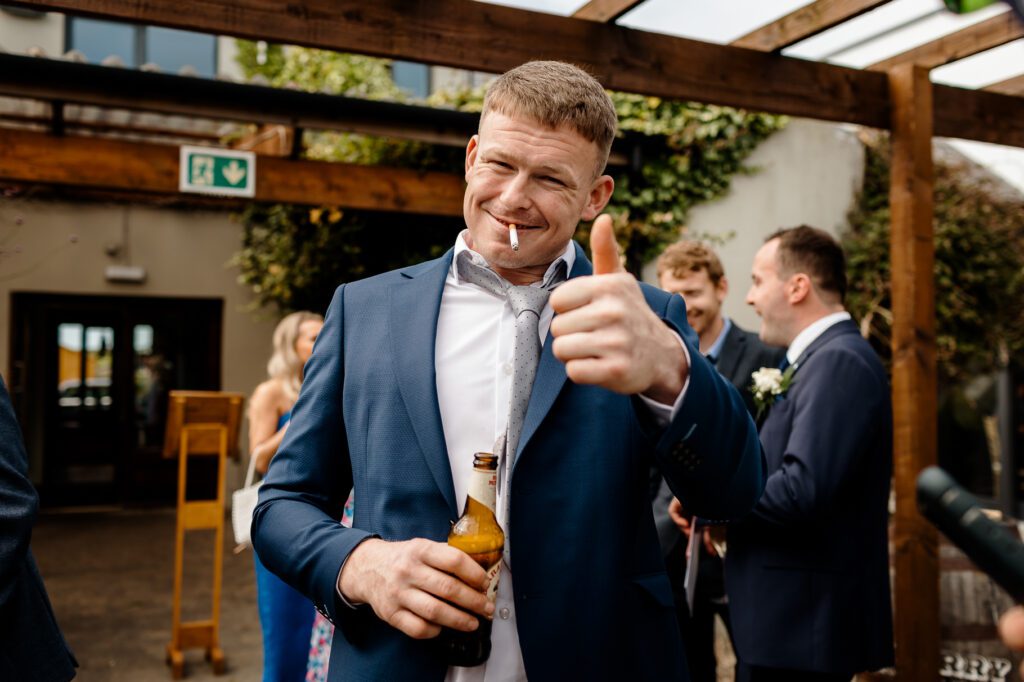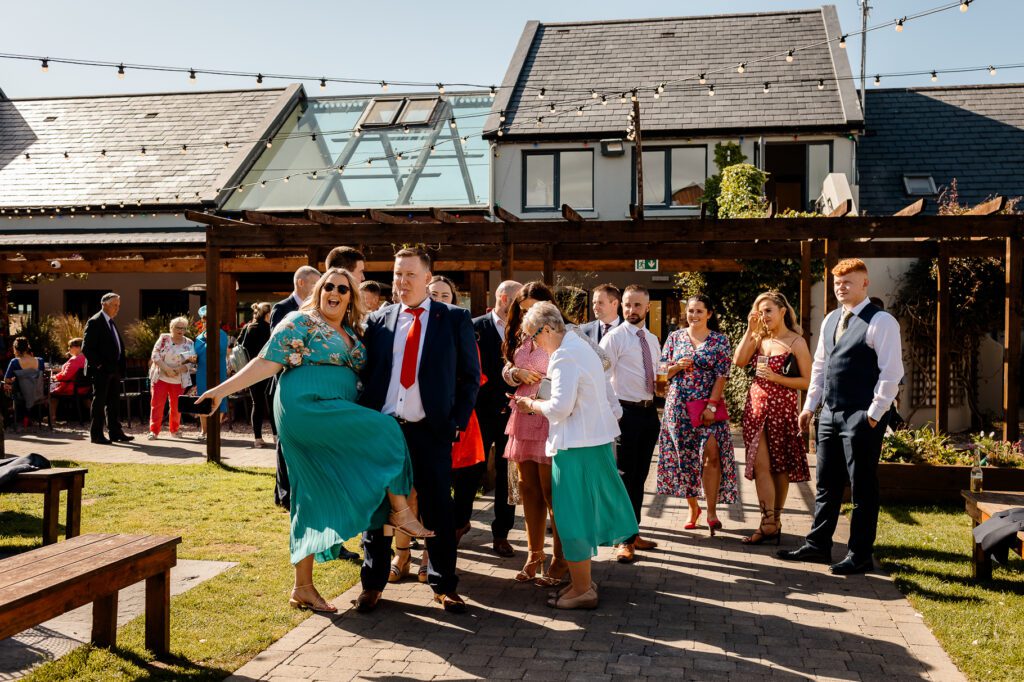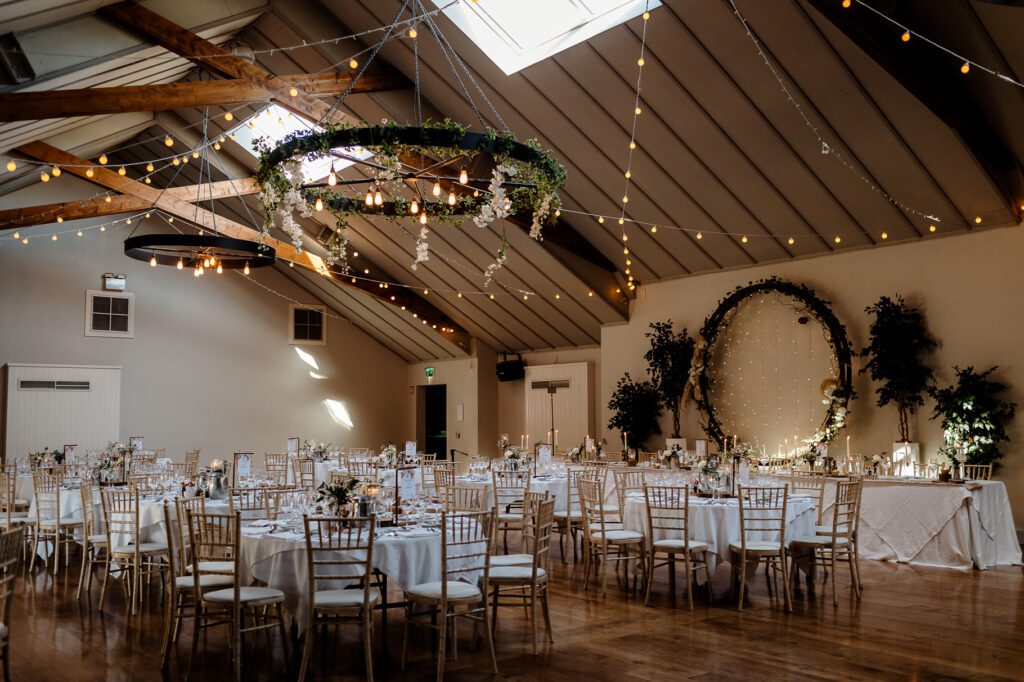 Ceremony: Holy Rosary Church – Doolin
Reception (if different): Hotel Doolin
Bridesmaids dresses/Groomsmen suits/Wedding party outfits: Patrick Bourkes – dresses from a NZ boutique
Shoes:Patrick Bourkes and Mi Paci for brides shoes
Accessories: the most random places!!
Flowers: West Clare Flowers
Cake: Hotel Doolin
Cars: We were so lucky Patrick's cousin provided his car for us
Wedding Favours:NA – we just had the photobooth
Stationery: Hotel Doolin and Self made online and printed in Ennis
Makeup: Mimis Freestyle hair
Hair:Aoife Garrihy Beauty
Wedding Rings: Micheal Hill Jeweller – New Zealand
Ceremony/Reception Music: Acoustra for the ceremony and Hotel Doolin Trad band
Band/DJ: Acoustra