Intimate, Ridiculously Fun , Custom and Full of Love Covid19 Wedding In Ireland.
The Mustard Seed Country House ,
Getting married amongst our closest family members in such intimate surroundings was the most magical experience.
Our wedding day was planned with every single family member involved in some way and it made the day incredibly personal and special.
We wanted an extremely relaxed vibe so we all stayed the night before and headed off for a hike the morning of our wedding- any excuse to pop champagne on Knockfierna! We strayed from the usual wedding rulebook of bridesmaids, groomsmen, long speeches, guest lists and big white dresses and made up our own formula and it worked a treat!
We still haven't stopped smiling!
Olga – MrsRedhead Photography was one of the most important pieces of our wedding puzzle and when we were lucky enough to hear that she was available we were over the moon!
She was the perfect fit- such an amazing mix of fun, professional and quirky. She is incredibly talented and has such a keen eye. We wanted a relaxed vibe with very few formal photographs and especially requested that everyone attending our wedding be pictured casually.
She did exactly that and we are absolutely blown away by our wedding album. She is genuinely the best in the business! Thank you so much Olga from the bottom of our hearts for capturing such special memories that will stay with us for the rest of our lives.
Kym & John
What was important to you about your wedding – what were your priorities from the very beginning?
The most important thing about our wedding was that it was centred around us and our families and that we could have a humanist ceremony, reception and stay all in the one place. Apart from the legal part we had complete choice over the contents of the ceremony from readings to poems and music etc. and this made it extremely personal to us. Reciting our own vows surrounded by our families and getting married was the most important part of our day. Our celebrant Kathleen Brouder was an absolute dream to work with and made the most important part of our wedding day so special.
What made your venue "the one"?
The Mustard Seed ticked every single box for us! We booked it over the phone during lockdown without even visiting the Lodge! John Edward is an exceptional host and planner and made planning a wedding in the middle of a pandemic an absolute breeze! We had heard so many amazing things about the hospitality and dining experience in The Mustard Seed from friends and families so we went with our gut and were not disappointed!
What made the day really special and personal to you? (Things you included, unusual elements, things that people made or did for you, etc.)
Writing and reciting our own vows and having everyone part of the humanist ceremony was so special. We had our first (and only dance of the day!) just before dinner along with our cake cutting and it made such an occasion of the reception. Everyone joined in and it brought that part of the day to a natural end before dinner. My sister arranged all the flowers, John's sister in law and nieces made the cake, my mom made the cake toppers, my mom's friend made my dress, my mom and John's aunt sang a beautiful and personal song for us during the ceremony and everyone had a part to play in the ceremony which made the entire day so family centered and special.
What advice would you give to other couples planning their day?
It is 100% possible to do your own thing no matter how many people tell you otherwise. Decide on a format that you both are most comfortable with and don't compromise. If you ask for something (like doing a first dance in a reception) and people question your idea, hold firm, keep to your plan and don't let 'the norm' get in the way of planning your special day.
How did the proposal go, if there was one?
John made many attempts to propose to me in 2020 but with a pandemic and rolling lockdowns his plans were constantly changing. We stayed in my parents restored shop and house in Ennistymon on Christmas Eve to be ready for an early rise on Christmas day for the swim on Lahinch beach. On Christmas Eve we sat in the living room drinking mulled wine and exchanged gift for gift from our Christmas stockings! The last present I pulled out of my stocking was a small tea tin. Before I even had the chance to open the tin John was down on one knee reciting one of our favourite quotes from Winnie The Pooh- "As soon as I saw you, I knew a grand adventure was about to happen." It was an easy "yes!"
How did you meet originally and get together?
John's aunt Anne and my mom Ger are really close friends and sing in the same choir. Anne informed me one day that her nephew was moving to Limerick and from that day on Anne and mom made it their mission to lead myself and John in the same direction. It took 6months but we got there in the end! They both know us so well and definitely made the right call when setting us up!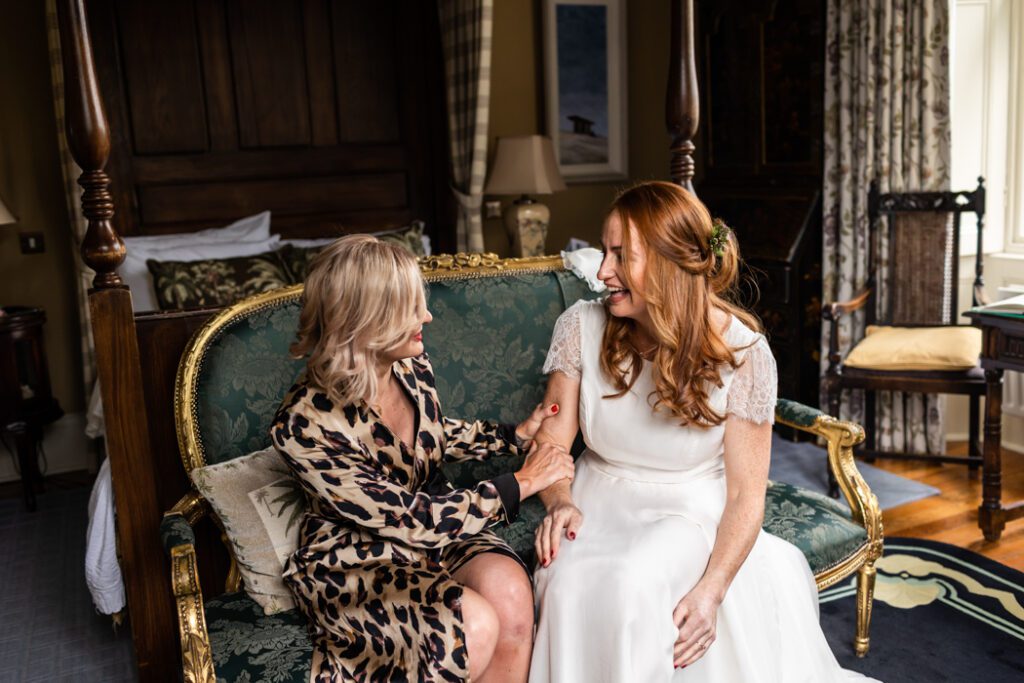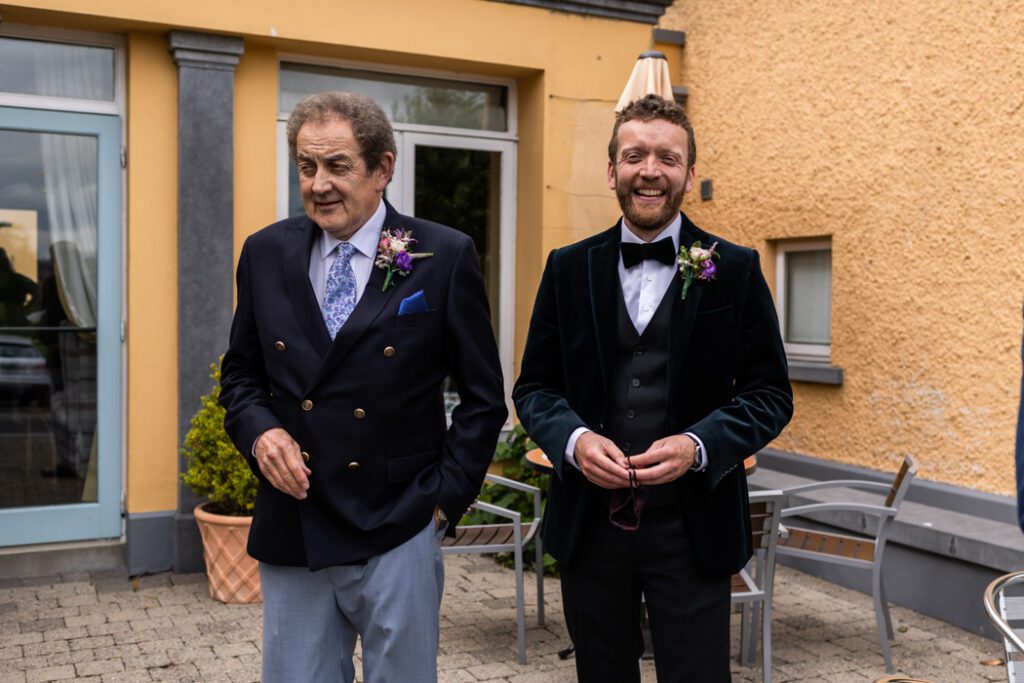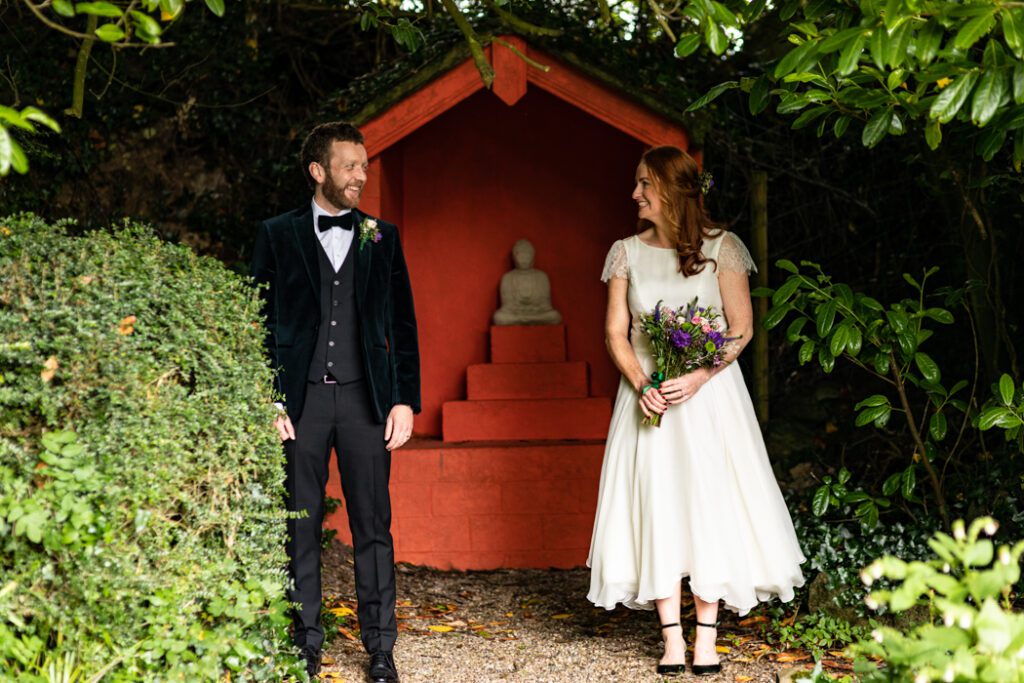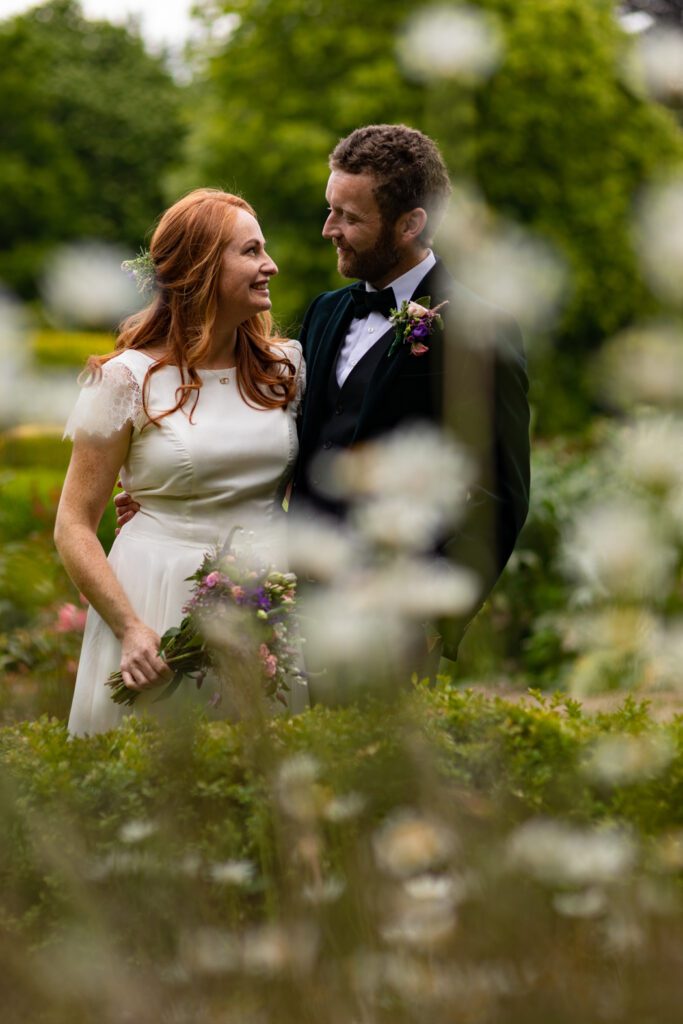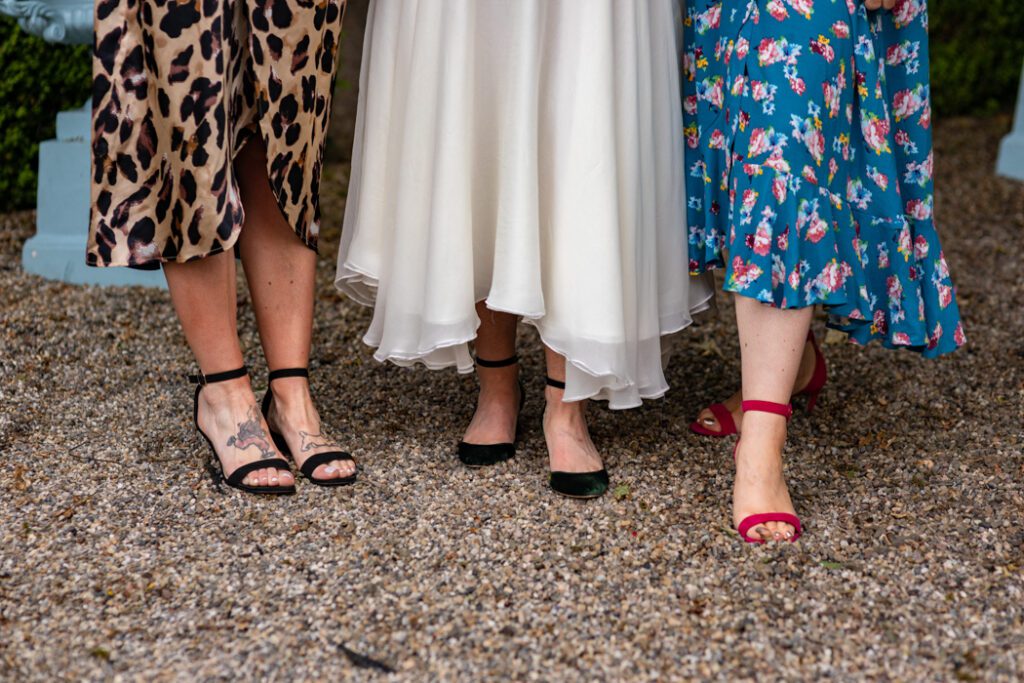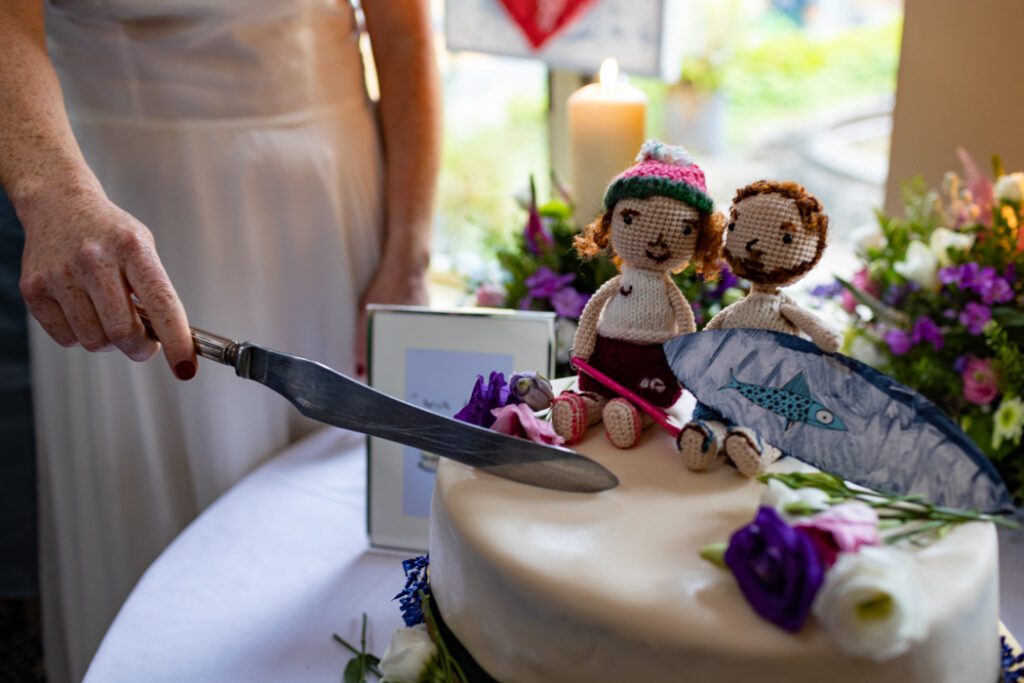 Where did you go/are you planning on going on honeymoon? Would you recommend it?
We went to Hayfield Manor in Cork for two nights, stayed in the most gorgeous Air bnb in Dunmore East for a few nights and finished our honeymoon with a night in Ballymaloe. We had the best week! Ballymaloe was our highlight but every part of the week was fantastic.https://www.hayfieldmanor.ie/
Airbnb- Seclusion on the Coast- Dunmore East, Waterford.https://www.ballymaloe.ie/:
Photographer : The one and only Olga – Mrs. Redhead!
Video : Aleks Skibniewska
Dress:
My mom's very talented friend Marie made my dress for me. I showed her one little picture on Pinterest and she did all the rest! Fabric from https://www.joelandsonfabrics.com/
Suit:
Green velvet bow tie:https://www.otaa.com/
Green velvet jacket: https://www.moss.co.uk/
Waistcoat, trousers and shirt: https://benetti.ie/ (https://patrickbourkemenswear.ie/)
Shoes: Ted Baker- Brown Thomas
Socks: Love heart happy socks- Brown Thomas!
Where was the wedding held:
Ceremony and Reception: The Mustard Seed at Echo Lodge https://www.mustardseed.ie/
Bridesmaids dresses/Groomsmen suits/Wedding party outfits:
We paired back our wedding to the absolute minimum so didn't have bridesmaids or groomsmen!
I was gifted the most beautiful dressing gown from my sisters in law to wear the morning of the wedding- https://melissamillsbari.com/
Shoes:
Green velvet Harriet Wilde from Lace and Favour https://www.laceandfavour.com/
Accessories:
My sister made a fresh flower slide for my hair and my earrings were the emerald crystal drop earrings from Seoidín in Limerick. https://seoidin.com/
Flowers:
My talented sister chose and arranged all the flower arrangements herself.
Cake:
Baileys chocolate biscuit cake made with love by John's sister in law and nieces Niamh, Saoirse and Aoife McShane!
My mom made the cake toppers- I'm in my club hockey gear and John is heading out for a surf!
Wedding Favours:
We left a copy of Charlie Mackesy's heartwarming book- The boy, the mole, the fox and the horse in everyone's room before they arrived. Our families each had a quote from the book to read in our ceremony.
https://www.charliemackesy.com/
Stationery:
We hand-wrote our invitations (we only had 20 guests- 9 invitations!) and got a personalised stamp made on this beautiful website. https://www.traumanufaktur.com/
We used green velvet envelopes (to match my shoes and John's suit jacket and dickie bow!) (Wedding papery shop on Etsy). We sealed our envelopes with a personalised wax seal from https://customwaxnseals.net/
Makeup: Sarah- Jane Blake
Hair: Jennifer O'Donoghue
Wedding Rings: Ger O'Donnell Goldsmith Limerick
Ceremony/Reception Music: String Quartet- Tom Crowley (head musician)
Piano man after meal: Nigel Bridge
Celebrant: Kathleen Brouder- We had a humanist ceremony in the conservatory of The Mustard Seed. https://spiritualceremonies.ie/
Intimate, Ridiculously Fun , Custom and Full of Love Covid19 Wedding In Ireland. The Mustard Seed Country House , Mrsredhead Photography